'm so thrilled to offer PASS to my clients! If you're unfamiliar with PASS, it is the #1 sharing solution for photographers and has been leading the photo industry for the past several years with it's technology and ease of use. (For first time users, this post will show you how to use PASS.)
I've done away with DVDs and USBs because I truly believe this is the safest, easiest, and quickest way to get images to my clients. I've been using PASS since 2013 and absolutely couldn't be happier with the seamless integration with social media and on-the-go mobile devices. Who doesn't want to have access to their photos from their phone?  AND, PASS offers my clients access to their gallery for 10 years!
Alright, with that established, I'm posting a quick tutorial on how to use it. PASS is designed to be very user friendly, but I wouldn't want you to miss out on any of the benefits!
Once your photos are completed, you'll receive an email with your gallery invitation. This gallery is for you to use both for your own viewing and also to show off your images to your friends and family. You may print images through your PASS gallery, download your images, post to Facebook, Twitter, and Pinterest, and email!
Here's a gallery of some real clients (hi Dean + Tricia!) and instructions on how to make the most of your own gallery.
Opening Your Gallery
To open your gallery, simply click on the "View Photos" button in the email or Facebook message you received. This will open up your gallery in a web browser.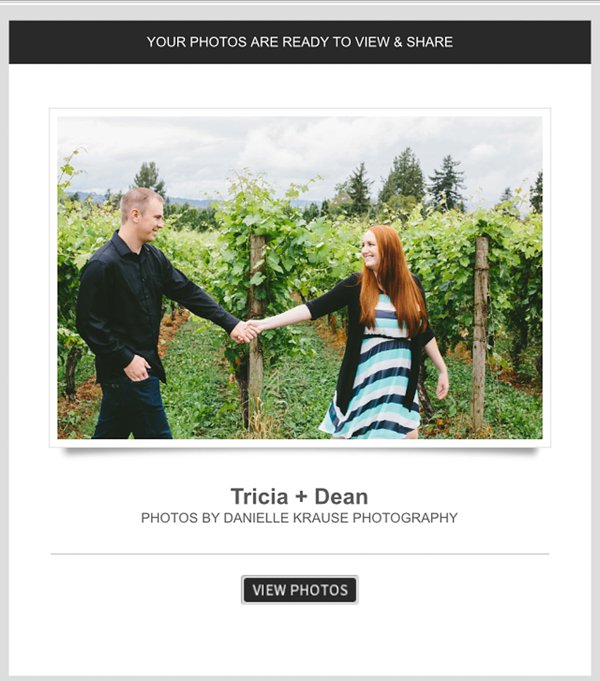 When the gallery opens, you should see something like this: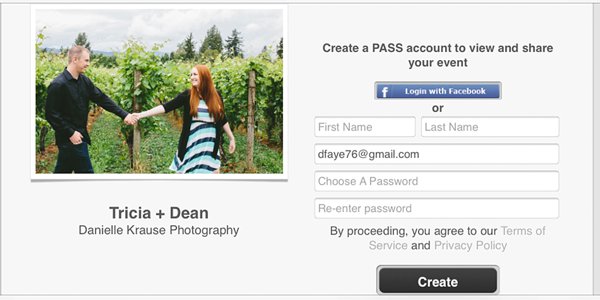 Logging In
You must log in with the Facebook account or the email address that has been given VIP access to the gallery. If it's an email address, you will first have to click on "Create Account" and then you can create an account by using that email address and creating a password. If you do not log in, you might not have full access to all of your images.  Depending on the setup of your gallery, you may not even be able to see any images – just a white screen with the black title bar.
Once you've logged in successfully you will see your gallery;


Viewing
Click on the 3 horizontal lines in the upper left corner to access the menu and select a collection to view. Just click on a collection and it will open in the gallery area. When your wedding images are in the gallery, I break them down so they are easier to view. In that case, they are typically titled something like, "Prep", "Bridal Party & Family", "Ceremony", etcetera.
If you want to view your images one at a time, just click on an image and it will expand to fill the screen. To get back to the full gallery, click on the arrow in the top left corner of the screen, or click on the faded arrows on the left or right of the image to scroll through each of your images in this larger format.
Favorites & Sharing
Since you are now logged in and are viewing your images, you can mark your favorite images with a star and create your own collection or share them to your favorite social media sites like Facebook, Twitter, and Pinterest. When you click on an image and it expands, you will also see a new menu slide out from the right-hand side of the screen. If you want to, you can click on the plus sign to expand the menu so you can see what each of the buttons actually means.


To add an image to your favorites, either hover over an image and click the star that appears or enlarge the image and choose the "Add Photo To My Favorites" from the right-side menu.

You can also share the URL with family/friends via Facebook, email, or text message and they will be able to view the photos too!
Downloading
When you are ready to download your images, it is super simple. You can download individual images by clicking on the specific photo you want, then clicking the "Download" button.
If you prefer, you can download all of your images at once by opening the left-hand menu (click on the three horizontal lines) and clicking on "Download All". You can choose to download all your images by putting an X in the box beside the "All Images" collection or you can choose to download one or more specific collections (including a collection of your own favorites).  Once you click the "Download All" button at the bottom, the gallery will package the images as a .zip file for you. It will notify you when the file is ready for you to download, or you can simply wait.




Eventually you will see a "Download" button which will allow you to save the images to your computer. Then you just have to open up the .zip file on your computer to extract the individual image files.


Printing
I use one of the top professional labs in the country and offer my clients access to this lab at cost.  If you choose to order through PASS simply choose your photo, click on "add to cart", choose your size and you're done.  PASS charges you approx 5-6 dollars shipping.  Keep in mind, you can download and order your pictures at THE LAB OF YOUR CHOICE.  I simply offer this as a courtesy to you and your friend/family.
The App
Now here's the coolest part. To view your gallery on your phone, download the PASS APP (it's free) and login. You'll instantly have your images with you everywhere you go!

Then just log in using the same information as before, and you will see a screen with your gallery. Everything looks identical to the desktop viewing so there are no surprises.

Enjoy your photos! I hope this convenience and technology makes it all the easier and better for sharing your beautiful day with those around you.