It's been a couple weeks since I've been back from Italy. I had an amazing time exploring the country all over again…. this time with my mama. We began our travels in Venice. Last time I went to Italy in 2009 we did the same. Great city to get acquainted to the Italian culture. We stayed at the same hotel I stayed in last time simply because it's close to the train station and I know exactly how to get there. We only had 24 hours in Venice and I didn't want to waste any time pulling our luggage through the maze of Venice trying to find our hotel. The nice man that checked us into Hotel Caprera comped our breakfast because I was a returning customer. We walked into our room, which had an amazing balcony, to the tiniest room ever! Well not tinier than my hotel room in New York a couple years back but it was TINY. We laughed for a minute or two, rested up for another minute or two and then set out to get lost in the floating city!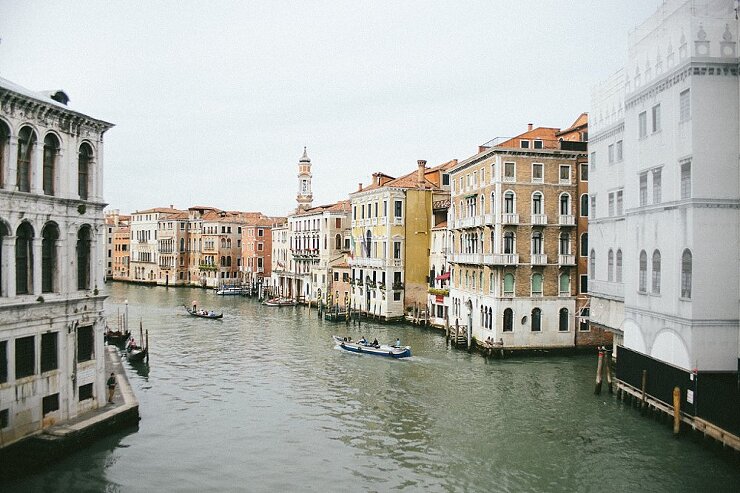 We were starving after our long sleepless flights so we set out to find Alfredo's which I read about on Tripadvisor before our trip. This small take out fresh pasta shop had very HIGH reviews so I was so excited! We were not disappointed! We ate there the next day before our train too! Here's a couple iphone pics of our hotel balcony, Alfredo's pasta and mom posing in front of a big door (many more of those to come.)


After wandering around Venice practicing our ciao's and grazie's we caught the 14:30 train to Florence. I booked a room at Hotel Il Bargellino for 3 nights also because it was close to the train station (which in Florence is also close to everything in the city center) and because it was recommended by Rick Steves. This hotel was PERFECT! The owners were adorable. Carmel is originally from Boston and her husband Pino is Italian. The hotel has a huge shared terrace. We sat on the terrace two of the nights for Apertivo before heading out for the evening. While in Florence, we were able to spend a couple days with Tori + James.  I've known Tori since she was born and our families have been close friends for even longer.  We had so much fun catching up, laughing and even traveled for the day to the walled city of Lucca which is about 1.5 hours from Florence. I first heard about Lucca from Househunters International which is one of my favorite tv shows and inspires me to travel. Lucca was everything I thought it would be! There was an antique market the same day we were there, we had some pizza, mojito's, gelato, rented a 4 seater bike and strolled the city walls and then headed back to Florence for more wine on the terrace and dinner! Long day but lots of fun! It was SO FUN to see Tori and her new adorbs hubby James! Mom and I shopped, strolled and shopped some more in Florence before hopping on another train to Rome.  Below are a couple iphone pics from our first official dinner in Florence, some biking pics in Lucca and our amazing bartender that whipped up 4 delish mojitos.



Next up on our adventure is Roma!!  We rented a private apartment through VRBO. It was in the Trastevere neighborhood of Rome which I LOVE LOVE LOVE! The small cobblestone streets are filled with jasmine and bougainvillea plants.  I mean pouring off rooftops and spilling over onto the streets.  The scent of jasmine was everywhere!!  Our apartment was one floor and 26 tiny, windy stairs up from the street just above a fairly busy restaurant. The nearby Basilica Santa Maria church bells chimed every 15 minutes…. actually there was 2 sets of bells. The restaurant guests (and us) were serenaded with live italian music too! Literally right outside our apartment door was the center of this fun section of town. The first night we arrived we took an evening stroll through Campo de Fiori, the Pantheon, Fountain of the Four Rivers, Trevi fountain and then somehow made our way back to our apartment. The next morning we were up early for our semi-private tour of the Vatican. This was long but impressive even for the second time around. The following night we booked dinner through Eatwith. This was really fun! We had a 8 or more course dinner with a local family, met some lovely ladies from Melborne and then strolled Trastevere with our new friends after dinner.  Below are a few pics from Instagram.  Feel free to click on the link and follow me at daniellekphotography. 








The next morning we were up early for our train to Sorrento.   We took the fast train to Naples then hopped on the slowwww train to Sorrento, got a little lost, backtracked a few stops before finally arriving!  Our hotel was a short 10 minute walk.  We checked into Hotel Elisa for 4 nights.  Sorrento was definitely my favorite part of our two weeks. Not only because it was on the coast but the streets and entire city is lined with citrus trees. Anyone who knows me knows that I'm obsessed with anything citrus especially LEMONS! If you get the chance to visit Sorrento I would highly suggest you stay at Villa Elisa and explore the Amalfi coast from Sorrento. The hotel room was huge with a large bathroom. It had a kitchenette so we made dinner and a couple lunches in our room with fresh produce picked up from the supermercado.  The hotel had a lovely terrace with ceramic tables that I LOVED!



The next morning we took the first ferry to Capri! I have been dreaming about visiting Capri since the first time I went there. The first time we took a small boat over stopping at the blue grotto which was really amazing but were unable to truly explore Capri. This time we arrived early and took the bus strait up to Anacapri.  I bought some sandals from the famous hand-made sandal shop (photo of Antonio of Antonio Viva below), took lots of photos and explored some churches.  We took the chair-lift from Anacapri up to Monte Solaro.  On a clear day the views over the bay of Naples from the summit are indescribable and there are some really pretty gardens and orchards underfoot on the way up the mountain (passing over private homes).  Sadly it was a little overcast and rained on us a little during our chairlift up but it's tropical rain.  No worries!   We sampled and bought some of the best Lemoncello I've ever tasted on Capri, shopped some more then took the second to last ferry back to Sorrento.  We walked up a million stairs to Hotel Elisa, had dinner then rested up for another amazing day exploring the Amalfi coast.


We started our day at 8am for the sita bus to Positano.  We lucked out and found two spots on the right side of the bus.  The views are AMAZING from the right side.  We explored Positano, shopped (mom found her dream bracelet), had lunch on the water and I ate 3 cups of Lemon Sorbet.  Yep!  That's right….. THREE!  It's my favorite lemon sorbet in the world and all I could think about from my first visit was this lemon sorbet… and hoping the nice lady was still there with a smile selling her delicious treat.  I chatted with her daughter and she said they make the sorbet from the lemons on their property everyday.  YUM!  After Positano we took "another" bus to Amalfi then "another" bus up to Ravello for about an hour.  We had little time to explore before having to bus back to Sorrento but it was worth it!  The views are incredible from Ravello.  (First photo on this post is Ravello)


On our last full day in Italy we took it pretty easy… slept in a little, found a new unexplored part of town including an antique market, made lunch in our room, shopped some more then had a lovely dinner at Soul + Fish which was highly recommended by Antonio at Villa Elisa.  Soul + Fish is located in Port of Marina Grande.  Marina Grande is connected to the historic center of Sorrento by an old zigzagging stone staircase.  There are dozens of tiny fishing boats that the locals use to catch fresh fish every day.  I hope someday to return "once again" to Italy to explore more but for now I'll just relive this adventure through this blogpost and the photos I took.  Ciao.






























Lucca






















Capri Island!
























































Positano
































Ravello














Last night in Sorrento 🙁










Ciao Italy!  Until next time.